September 23, 2010 10:45 a.m. EDT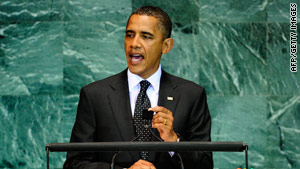 President Obama addresses world leaders at the U.N. on Thursday.
STORY HIGHLIGHTS
NEW: Obama says Israel's moratorium on settlements has helped peace prospects
He says Israelis, Palestinians will miss out on opportunities without peace accord
Obama says other countries have responsibility to help with the peace process
Tensions mount over possibility of new Israeli settlements in West Bank
Washington (CNN) -- President Obama on Thursday urged Israel to extend its settlement moratorium.
"We know there will be tests along the way, and that one is fast approaching. Israel's settlement moratorium has made a difference on the ground, and improved the atmosphere for talks," he said in his address to the U.N. General Assembly.
"Our position on this issue is well known. We believe that the moratorium should be extended. We also believe that talks should press on until completed. Now is the time for the parties to help each other overcome this obstacle. Now is the time to build the trust -- and provide the time -- for substantial progress to be made. Now is the time for this opportunity to be seized, so that it doesn't slip away."
He said critics and skeptics of a Mideast peace between Israelis and Palestinians should "consider the alternative," according to excerpts released in advance of the speech.
"If an agreement is not reached, Palestinians will never know the pride and dignity that comes with their own state. Israelis will never know the certainty and security that comes with sovereign and stable neighbors who are committed to co-existence," he said. "The hard realities of demography will take hold. More blood will be shed.
"This Holy Land will remain a symbol of our differences, instead of our common humanity," he said.
Video: Obama: Iran must prove intent
Video: Clinton: Mideast peace 'doable'
Video: Barak: We will reach an agreement
According to his prepared text, Obama said although peace must be made by Israelis and Palestinians, other countries have a responsibility as well.
"Those of us who are friends of Israel must understand that true security for the Jewish state requires an independent Palestine -- one that allows the Palestinian people to live with dignity and opportunity," Obama said. "And those of us who are friends of the Palestinians must understand that the rights of the Palestinian people will be won only through peaceful means -- including genuine reconciliation with a secure Israel."
Since being elected president, Obama has worked to resolve the conflict between Israelis and Palestinians.
U.S. Secretary of State Hillary Clinton and Mideast peace envoy George Mitchell have worked to achieve peace talks aimed at resolving all core issues of the Mideast conflict within 12 months.
Tensions are growing over the issue of possible new Israeli settlements in the West Bank.
Israeli Prime Minister Benjamin Netanyahu is under pressure from the Palestinians and the Obama administration to extend a 10-month moratorium on building Israeli settlements in the disputed West Bank territory. That moratorium is set to expire Sunday. Palestinians have said the construction would torpedo the talks, but Israel says some construction is likely.
Another roadblock to any peace deal is the Palestinian view that any two-state solution must include a handover of all the land Israel captured in the 1967 war, along with East Jerusalem as the Palestinian capital.
While Netanyahu has expressed openness about a Palestinian state, he has strongly opposed a Palestinian takeover of East Jerusalem.
As for Israel, its security concerns have been front and center and they have spurred the fighting in the Middle East. The attacks into Israel by Palestinian militants firing rockets from Gaza spurred Israel's offensive in Gaza that begin in late 2008.
Obama said supporters of the Arab Peace Initiative should "seize this opportunity to make it real by describing and demonstrating the normalization that it promises Israel." He urged those supporting Palestinian self-government to help the Palestinian Authority with political and financial help.
"And those who long to see an independent Palestine rise must stop trying to tear Israel down.